Electronic Repairs
Bay Tunes Guitars has the ability to swap pickups in your electric guitar, turn your plain acoustic into a dynamic acoustic/electric, troubleshoot your shorted or old components, or completely wire a custom harness to your specs.
Bay Tunes is a factory direct dealer for LR Baggs, Martin, and DiMarzio pickups and has access to Gibson, Shadow, Fishman, and many more brands.  All electronics work is done utilizing heat shrink where many others do not and high-end cloth covered wire designed specifically for guitar applications.  We use only the best components from CTS for pots and Switchcraft for jacks and switches.
Contact us today to find out how we can help you!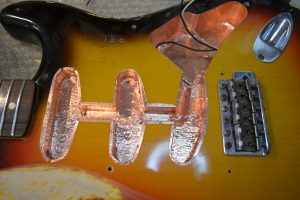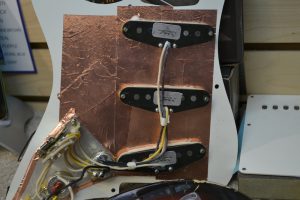 Left: Hand shielded cavity of a '59 Relic CS Strat
Right: Shielded pickguard and CS pickup set in a CS Relic Strat