Join us for a Special Paul Reed Smith Guitar Expo at Bay Tunes Guitars on Monday, October 29th. Stick around for an exclusive Clinic featuring PRS artist and bluesmaster, Boscoe France.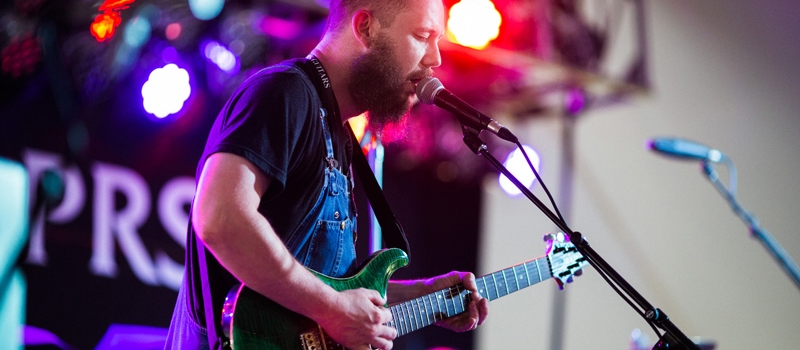 The store will have a special factory selection of electric and acoustic guitars, amps, and more including 8-10 guitars straight from the factory! On hand to answer all your PRS questions will be PRS Guitars Brand Ambassador, Clay Lord. Clay's knowledge of the PRS Brand and product line will be an invaluable resource during the event and he will be there to help and answer any and all questions. Of course, the Bay Tunes team will be on hand to help with any of your musical needs as well. It is going to be an awesome day of guitars and good times.
Deals all day on the full suite of unique guitars from SE all the way to Private stock.
Mark your calendars, tell your friends, and do not miss out on this event. See you there!
Free SWAG as long as it lasts!
JUST IN……………..
Bay Tunes will be giving away tickets to see the Boscoe France band w/ Magnolia Boulevard the following evening at Rams Head On Stage to a few lucky attendees.
PRS GUITAR EXPO: 5:00 PM – 8:00 PM
BOSCOE CLINIC: 6:00 PM – 7:30 PM
More information please call 410.956.0065 or visit online at: https://www.baytunesguitars.com/
ABOUT BOSCOE FRANCE:
Western Kentucky has a rich history of unique and groundbreaking music that has contributed greatly to our nation's musical heritage over the years. This diverse collection of work has directly or indirectly influenced generations of highly skilled musicians to create their own path in music history. Today, Boscoe France of Madisonville Kentucky keeps the tradition alive and well with an unreal level of talent and a connection with the guitar that's almost indescribable. This Kentucky firebrand stands barefoot on stage, playing with the skill and talent of a master musician fused with the intensity of a bare-knuckled brawler. Boscoe France's unique musical style is an awe-inspiring alchemy of blues, rock, country, and a little bit of soul into powerfully original approach.
A truly unique talent, this Kentucky firebrand began learning the guitar at the age of three from his Uncle Duke and began playing with their family band. By age eleven the guitarist was playing all over the western Kentucky and southern Indiana. After high school Boscoe moved to Nashville, where he toured with many successful national acts. In 2006 the western Kentucky native returned to Madisonville to take a break from touring and focus family on his own band. In 2009 The Boscoe France Band was born. The band was an opportunity for the guitarist to do all the vocals. What resulted was a power-trio. In 2012 Boscoe took top prize in the National Guitar Center King of the Blues Challenge. Later that same year He recorded an E.P. with Grammy award winning producer Pete Anderson. 2013 would provide the thrill of a lifetime when Boscoe received The King's approval when he was asked to open for and later be called out on the stage by Mr. B.B. King himself. 2013 was also the first year The Boscoe France band were semi-finalist in The International Blues Challenge in Memphis, TN. An accomplishment they would repeat in 2014. 2015 was the year Boscoe went nationwide on Television. Shoeless Blues: The Journey of Boscoe France was featured nationally on PBS.
To learn more about Boscoe France, please visit:
http://www.prsguitars.com/index.php/artists/featured_artist/boscoe_france